Ozar Group Provides Services to the Railway Systems Sector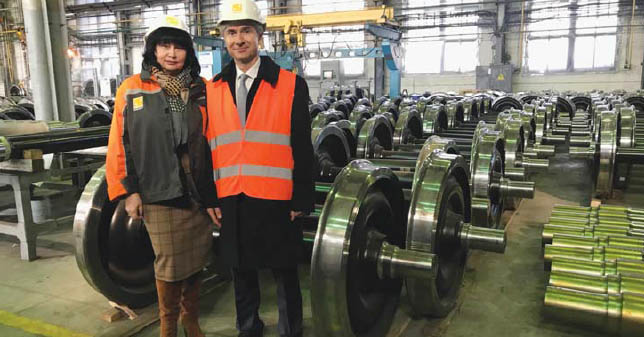 General Manager of Ozar Group M. Zeki Aras has stated that tehy have been providing services to the Railway Systems sector for many years and they give great importance to Eurasia Rail 2019.
No doubt that Eurasıa Rail is one of the most efficient and promising exhibition in Railway sector in our country. We as Ozar Group had been participated this event opening a booth before but this year we are participating this event together with the co operation of KLW Wheelco S.A which we have been in a long term business co operation and realizing succesful projects. They are the top manufacturer of wheels, axles and pipes of Europe.
RailwayTurkey: Why do you participate with a common booth with KLW Wheelco at Eurasia Rail 2019?
M. Zeki Aras: Ozar Group is the exclusive distributor of KLW in Turkey and there is no doubt that they are best and the top manufacturer which used to supply wheels and its components to European Railways. As a result of our confidence and co operation with KLW, we consider and aim to come together during this fruitful exhibition to welcome our guests and contribute actively to the presentation of our country.
RailwayTurkey: Which products will you exhibit at your booth ? As Ozar Group, which products are at the forefront in your product range ?
M. Zeki Aras: We have a large product range. Wheel sets, axles, bearings, axle boxes, brake shoe holders, casting & Forging products, gears and other related bogie parts also you can see the other diesel motor parts some like crankshafts, pistons, piston connection rods, powerpacks for all railway systems.
In the past 5 years, as a result of our investments and studies we start up the production activity with our local subcontractor partners. We make a big progress in this field. We keep continue to export these local products besides supplying them to the domestic market. We realize all the required tests and certification process to provide the highest quality according to the TSI and EN standards .
Thus, both we support the naturalization efforts in Railway sector and make a significant contribution to our country.
RailwayTurkey: Ozar Group is a long term supplier of this sector for long years. How did 2018 pass on ?
M. Zeki Aras: We had a successful year. The rate of our sales increased %35 in proportion to last year. We keep continue to proceed on our projects with our highest motivation of team and supporting this with our internal evaluation procedures which we frequently take strategical decisions and gain valuable results. Every passing day , we continue to develop our product range with innovative solutions.
We have a powerful and patient team and we are working to take our company to go a step further more taking strong steps in our projects.
RailwayTurkey: Which role will take Ozar Group this year in Railway sector ?
M. Zeki Aras: Railway sector is very special and valuable for us. We as Ozar Group, this year again keep continue to supply the products which provides a guarantee and comprise all the standards of the manufacturing spare parts and also repairing process of Railway sector is in need of.
Frankly, I can say that we are an exclusive company which is working comprehensive based on a largest product range and efficient service manner . We proceed on our way powerfully with supplying products which are producing in our country by our partners and also the special motor parts with our cooperation with OEM based World wide well known exclusive distributorships.